April 13, 2023
Elevating Your Master Bath with Decorative Tiles
There are countless ways to add your personal touch and elevate your style in your master bath but one of our favorites at the Butler Homes Design Center is adding statement tiles! This is an often-overlooked element that can make a big impact in a space large or small. Decorative tiles are a great way to add texture, color, and personality to any place in your home, including the shower! 
Master Bath of the Manchester plan, voted 1st place Parade of Homes overall & interior design
Consider the grout
The grout you choose can have a big impact on the overall look of your statement tiles. You can opt for a grout that matches the color of your tiles to create a seamless look, or choose a contrasting grout color to make your tiles pop. We always recommend our homeowners to properly seal the grout to prevent discoloration or damage over time.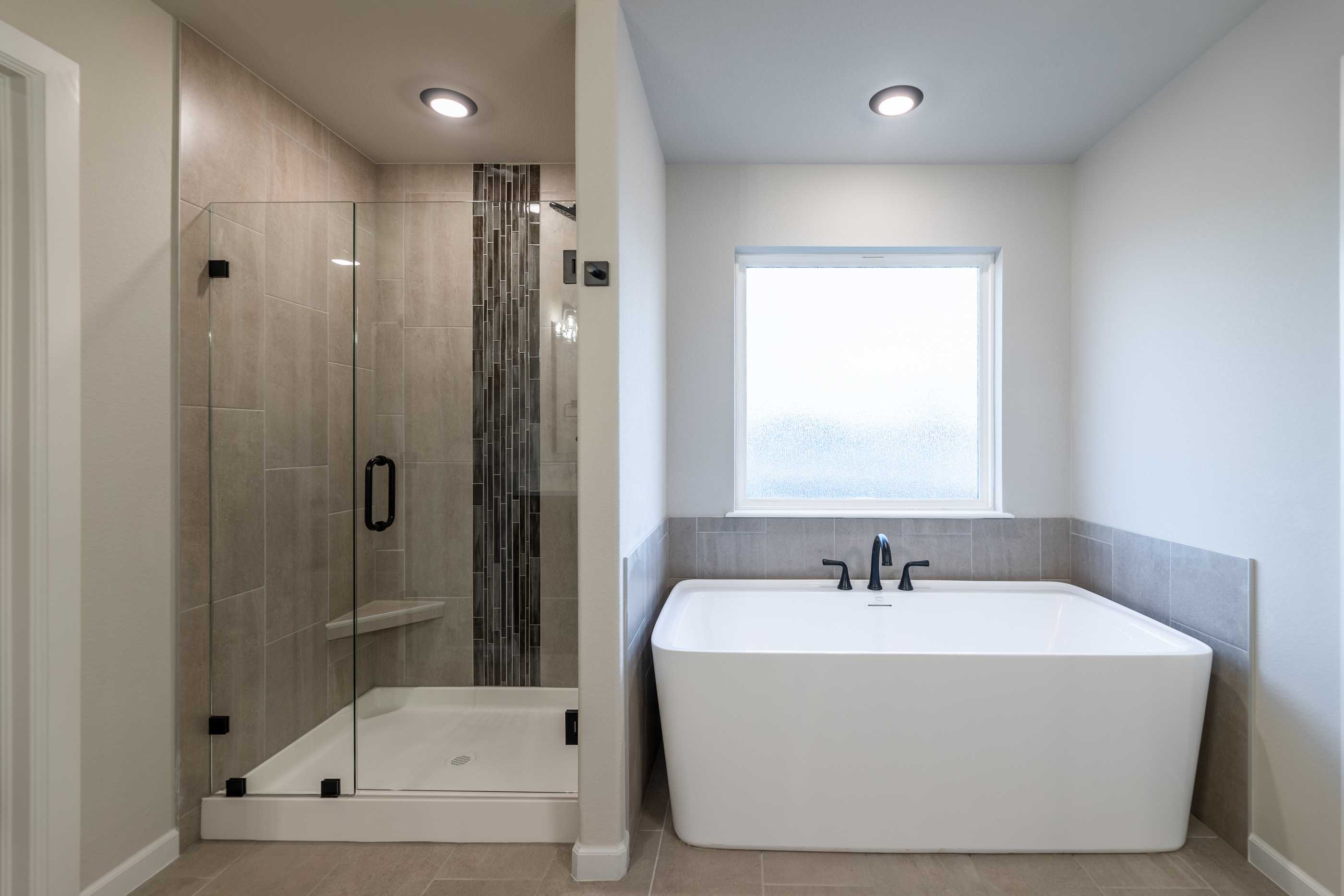 Master Bath of the Caleb plan 
Make a statement with bold colors and patterns
Consider using tiles in bright and bold colors, or choose patterns that stand out and make a statement. Since the space in a Master bath is limited, it's a great place to indulge on a fun color or unique tile. The BH Design Center carries multiple colors and styles to choose your perfect pop of pattern! 
Master Bath of the Juniper plan, voted 1st place Parade of Homes for best floorplan 
Use decorative tiles to create a feature wall
If you want to add a focal point to the master bath, consider creating a feature wall with statement tiles in the master shower! This is a great way to add texture and visual interest while allowing livable access. When designing feature walls, consider the direction your tile will run. Butler Homes builds both horizontal and vertically placed decorative strips in showers – it really depends on the homeowner preference and building allowances! 
Master Bath of the Breckenridge plan, voted 1st place Parade of Homes overall 
Mix and match different styles
Don't be afraid to mix and match different styles of statement tiles. You can create a unique look by combining tiles with different textures, colors, and patterns. For example, you could use a bold patterned tile on the floor and pair it with a more subtle, solid-colored tile on the walls. Or stay in the same family and switch up the textures. Complimentary tends to work in the design world, and we love helping our homeowners find their perfect balance! 
In conclusion, decorative tiles can be a game-changer when it comes to elevating your bathroom style. Whether you choose bold colors and patterns or mix and match different styles, statement tiles can help you create a unique look that truly reflects your personality and taste. So, go ahead and unleash your creativity with statement tiles and transform your living space into a stylish and inviting sanctuary! 
Find more of the #BeautyofButler and bathroom inspiration HERE